President's message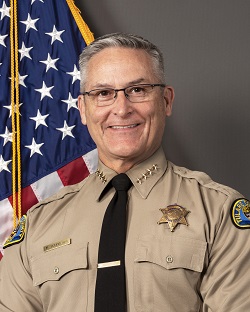 I'd like to offer you a warm welcome to the official website of the California State Sheriffs' Association.
I want to take this opportunity to express my sincere appreciation to our members for their overwhelming support and for electing me to the position of President. It is an honor to be given the chance to serve our association in this capacity, and I assure you that I am committed to working tirelessly to fulfill the responsibilities of this position.
As we move forward, I want to assure you that I will work closely with all members of our association to achieve our collective goals. Together, we will strive to maintain the highest standards of professionalism, integrity, and accountability. I am confident that with our collective efforts, we will continue to build a stronger, more unified organization.
I want to take this opportunity to thank each and every one of you for your unwavering support, dedication, and hard work. I know that I can count on your continued support and commitment to the association as we navigate the challenges ahead. Please know that your contributions do not go unnoticed, and I am proud to work alongside such a dedicated and hardworking group of professionals.
Once again, I thank you all for your trust and confidence in me, and I look forward to working together to advance our organization's goals and objectives.
Sincerely,
Sheriff Mike Boudreaux
Tulare County and CSSA President 2023-2024
---
MEMBERSHIP DISCOUNTS
For more info, please call 916-375-8000 or email members@calsheriffs.org.
BECOME A DONOR
Make a tax-deductible donation today, and show your support for California Law Enforcement.
---