President's message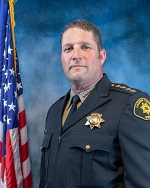 Welcome to the official website of the California State Sheriffs' Association.
The membership of our association consists of California's 58 elected sheriffs, along with California State Sheriffs' Asociation (CSSA) Headquarters staff, our Legislative Team, our Legal Counsel, members of the CSSA Foundation, our Corporate 100 Partners, and thousands of Associate Members from all across California. Collectively we support the role of the Sheriff as the Chief Law Enforcement Officer in each of California's 58 counties, and we stand together on matters of public safety in the Golden State.
Explore our website today and learn how you can help support the efforts of California's sheriffs through membership or sponsorship opportunities. You will also discover a wide range of other resources, including a history of the role of the sheriff, information on legislation of significance to sheriffs and public safety, information about career opportunities in law enforcement and corrections, and contact information for California's sheriffs and their agencies. You will also find current career opportunities in law enforcement and corrections, as well as a schedule of training courses on important topics that impact our communities and the men and women who serve as our deputies.
Thank you for visiting our website, and for supporting us as we protect your safety.
Sincerely,
Sheriff Dean Growdon
Lassen County and CSSA President 2021-2022
---
MEMBERSHIP DISCOUNTS
Members and Corporate 100 Partners, as a thank you for being a fundamental part of our organization, CSSAF is now offering all current members and Corporate 100 Partners an exclusive discount code to use whenever you rent a car through Enterprise. Be sure to reserve your next rental car through enterprise.com and contact us to access the code. Please note, CSSAF does not receive monetary proceeds from this arrangement. This discount was arranged solely to serve as an additional benefit to our members.For more info, please call 916-375-8000 or email members@calsheriffs.org.
BECOME A DONOR
Make a tax-deductible donation today, and show your support for California Law Enforcement.
---